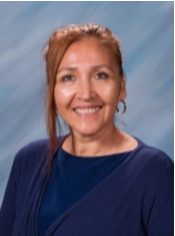 Phone: 256-837-3735 Ext: 82600 or 256-513-9124
Email:
Degrees and Certifications:
Bachelor of Arts from the University of Alabama at Birmingham in Spanish/ English/ German and Dance Master of Arts in Reading Education, from the University of Mary-Hardin Baylor, TX Masters in Educational Leadership and Administration from The George Washington University, Washington DC. International Baccalaureate certificates for teaching French levels MYP and Certificate from Montreal, Quebec.   Highly Qualified to teach Spanish P-12. Native speaker of both French and Spanish.   Goethe Institute Certificate for German Oral Proficiency Interview (OPI) certificate from Virginia Advanced Placement (AP) for French certificate from Texas. Active doctoral candidate in the Educational Leadership Program at Samford University, BHM, Al.
Madame: Minouche Kaufmann-Perry

French Teacher

Madame Perry's Bio:

I am originally from the south east of France. I came to the United States to study English and try my luck at acting professionally. I have lived in several countries since. I have been teaching for 15 years. I began my teaching career with the Woodbridge County Schools in Virginia. As a military spouse, I have since served in many teaching and leadership roles with various districts throughout the country. I taught and sponsored French Honor Societies, International, and Amnesty International clubs throughout my teaching career. I taught for the Newport News Public Schools in Newport News, Virginia, Temple, Texas and then served as a French and Spanish teacher and instructional leader for the York County School District in Virginia. I was a faculty member for the Governor's World Language School for the Common Wealth of Virginia, at Washington and Lee University during the summer of 2016. While at YCSD, I worked with Central Office for the World Language Curriculum and Instruction for the International Baccalaureate (IB) and Middle Years Programme (MYP). While in Virginia, I was a founding member and Secretary for the French American School of Norfolk, (FASN) in Norfolk. I worked with the city of Norfolk, the Norfolk Public Schools and the French NATO Allied Command Elements.

I was a French Language Instructor for the Special Forces and Psychological Forces at the John F. Kennedy Defense Language Institute (DLI) Schools, at Fort Bragg, North Carolina. I am highly qualified to teach and lead in both Virginia and Alabama public schools. My family relocated to Huntsville, Alabama in July 2017. I live with my husband, son, and daughter. I have a bilingual cat named Champion. I love teaching and learning. This is my fourth year at DMS.